Our guide's moderators keep the list of record Mega Moolah jackpot winners up to date.
Recent Jackpot Wins
Mega jackpots recently won on the Mega Moolah bonus wheels are given below.
---
17th June 2023
CA$8,312,798
Jackpot won on the Mega Vault Millionaire slot at Quatro Casino, by a player from Canada.
6th April 2023
CA$10,013,172
Jackpot won on the Mega Moolah slot at Yukon Gold Casino, by a player from Canada.
4th January 2023
€6,753,702
The jackpot millions were won on the title Absolootly Mad from the Mega Moolah games network.
---
Mega Moolah Record-breaking Winners
#1.
CA$20,059,287
30th June 2019: Jackpot won in Canada on the Zodiac Casino site.
#2.
€19,430,723
27th April 2021: Jackpot won in Belgium on Absolootly Mad Mega Moolah.
#3.
€18,915,872
28th September 2018: Jackpot hit at Grand Mondial Casino in Europe.
#4.
CA$16,496,347
5th April 2022: One of the many jackpots won on Jackpot City in Canada.
#5.
€14,239,532
17th August 2020: Record Mega Moolah won by a player from Sweden.
#6.
NZ$13,615,861
8th May 2020: Large jackpot won at an online casino in New Zealand.
#7.
£13,213,838
6th October 2015: Record set in England by a loyal member of Betway.com
#8.
$12,945,668
5th March 2019: One of the record-breaking massive jackpots won on the Luxury Casino site.
#9.
$12,792,841
10th May 2022: A jackpot won in US dollars on the Lion's Mega Moolah slot machine.
#10.
CA$11,633,898
5th November 2016: An incredible win by a Canadian at Yako Casino.
#11.
$11,610,539
28th August 2016: Crazy Mega Moolah Jackpot hit on the Zodiac Casino site.
#12.
NZ$10,144,395
17th June 2016: One of the record-breaking Mega Moolah jackpots won by a player from New Zealand.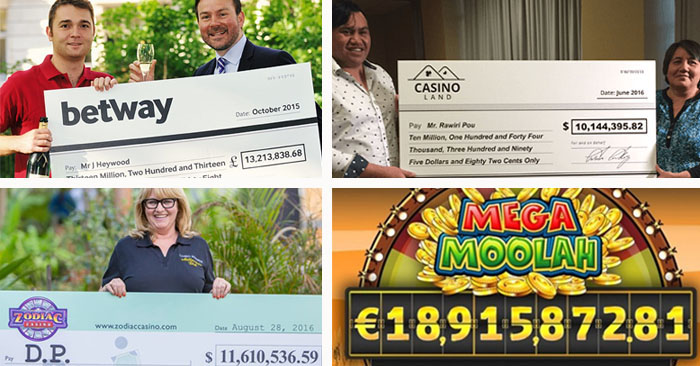 ---
Winning Games in the Series
Over the past few years new versions of Mega Moolah slots have been released. Among the most popular recent themes, the best-paying games of the saga have been:
Absolootly Mad
Atlantean Treasures
Immortal Romance
Although the latest games of the Mega Moolah slot machine are popular, the saga's original version remains the one that pays out the largest record-breaking jackpots.
Record-breaking Casinos
Many Mega Moolah jackpots have been won at some legendary online casinos.
These slot machine sites are:
Grand Mondial
Yukon Gold
Zodiac Casino
Grand Mondial is the online casino with the highest number of winners on the Mega Moolah series. The casino is named the millionaire maker in slot machine guides. As for other online casinos, Yukon Gold and Zodiac Casino have also had many big winners.
Winners' Origins
The biggest Mega Moolah jackpot winners are from Canada and Europe. These lucky players won over 10 million in one go. Just behind the Canadians and Europeans, players from England, New Zealand and Sweden managed to win record-breaking jackpots.
Track the Mega Moolah Jackpot
The real-time value of the Mega Moolah mega jackpot is provided by Microgaming. The bonus wheel developer displays the Mega Moolah bonus wheel jackpots at its affiliated online casinos.
To keep track of the bonus wheel jackpot, simply visit the Zodiac Casino website. The real-time jackpot is displayed on the website pages.
Total Winnings
From 2006 to date, more than a hundred players have won the Mega Moolah jackpot of over 2 million. Taking into account all the jackpots won on the series' bonus wheels, over 1.5 billion dollars have been paid out to players. This amount is the total winnings on the Mini, Minor, Major and Mega pots of the bonus wheel segments.